CleanPro® will Hand Paste Wax Your Wood Floors. We will Then Buff Your Floors to a Shine.
Before / After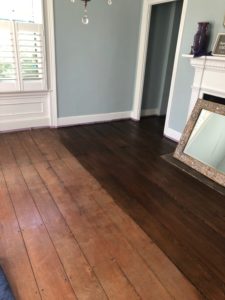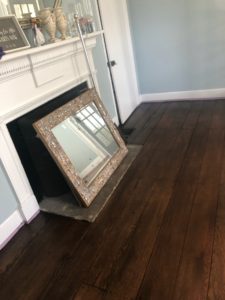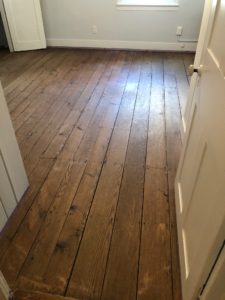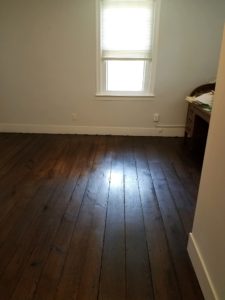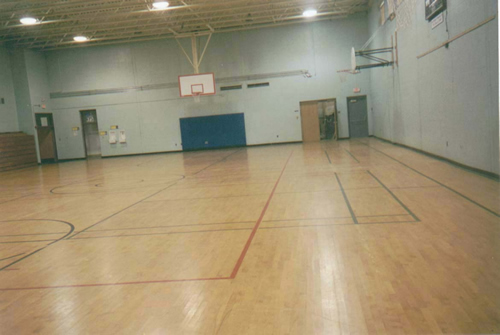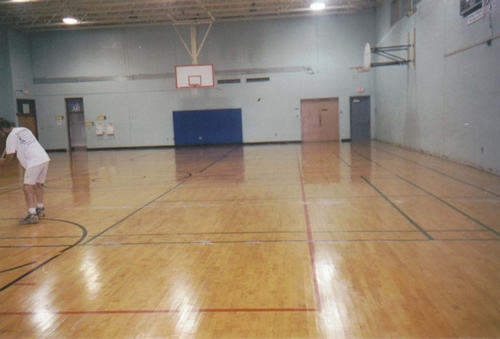 When your Wood floors look dirty and dull there is only one solution to restore your flooring…Call Us!
Preparation
All baseboards or areas needing protection will be taped off with blue painters tape. This will protect all the paint and expensive furniture from the brown liquid wax. Large pieces of furniture can be moved, cleaned, waxed, and replaced.
Hand Waxing
We also offer staining before the wax coat to help seal very old or worn wood. The stain will add color and life enhancing the floors beauty. The wood floors will be hand waxed using DuraSeal liquid floor wax. The wax will be applied by hand using tarry cloth towels and applicators, not with a buffing machine. The dark wax will penetrate into the worn areas adding a dark, rich color and will help blend in the floor evenly. We also have clear waxes.
Drying

Using a number of Clarke high powered floor blowers the wax will be dried and ready for the slow buffing and then polishing.
Slow Buffing
Now that all the floors are waxed and dried they will be slow buffed at 175 rpm's using a Mercury160 lb. buffing machine. This buffing at a slow speed will work the wax into the wood flooring and clean it at the same time. Special care will be taken to keep the wax out of the grooves and off your belongings.
Polishing
The last step is to high speed polish the floors at 1600 rpm's using a Clarke High Speed Burnisher. This will "melt" the wax and produce a brighter luster than just slow buffing.
Let us clean your wood floors and provide you with a beautiful, shiny, protective wax coating.
Our Commercial and Residential Floor Restoration Services are suited for Entrance Ways, Locker Rooms, Kitchens, and Lobbies. Many industries such as Hospitals, Schools, Manufacturing Facilities, Office Buildings, Supermarkets, and Restaurants can benefit from our Commercial Floor Cleaning Services.
Contact us with any questions or problems concerning your Connecticut floor cleaning, commercial and residential floor stripping, floor refinishing, and contract floor maintenance needs.