CleanPro is a Full Service Floor Care Contractor Established in 1976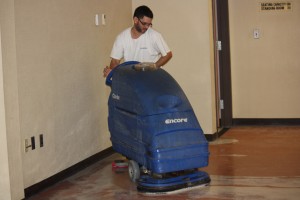 CleanPro is a full service commercial and residential floor care and floor cleaning contractor based in Woodbury, Connecticut. We began in 1976 as a window cleaning business under the name Sparkle Window Cleaning. In 1980 Sparkle Window Cleaning merged to form COMPRO, a full service commercial and residential floor cleaning contractor.
In January 1981 we changed our name to CleanPro: The Professional Floor Care Company.
Although we continued to offer our customers the same services as when we started, our goal was to become the leading specialists in commercial and residential floor care and floor cleaning.
Most of our serious competitors in the floor care industry also began in business around the same time and immediately set about developing and selling franchises. CleanPro opted instead to spend more time on research and development. Diversity became important as we began to examine the other systems and develop our special mix of floor care and floor cleaning options for our customers.
CleanPro is always using the finest finishes and most advanced machinery for floor care, floor stripping, and floor maintenance.
One of the factors to which we attribute our success and that sets us apart from all others in this industry is our steadfast commitment to customer service. Our customers know that unlike other companies that operate from 9am to 5pm (EST), Monday through Friday, we answer the phones 24 hours a day – 7 days a week. We never close. CleanPro is always available to address our customers floor care and floor cleaning questions and concerns anytime.
One of the most important factors for our success is the happy customers who continue to use our commercial and residential floor cleaning and floor scrubbing services year after year. We still have some of the same residential and commercial customers that we started with in 1976. Please check our references and they will tell you why CleanPro is the best.
The main reason for our success is that CleanPro can refinish any type of flooring out there today.
We have the most innovative techniques to strip and refinish Slate, Terrazzo, Limestone, Marble, Mexican Tile, Brick, Quarry Tile, Concrete, No-Wax Vinyl flooring, or any type of Stone flooring. CleanPro® can strip and clean grout or change grout colors.
CleanPro is now offering our floor care and floor cleaning services in 9 states. CleanPro strips, refinishes, and scrubs floors in Connecticut, New York, New Jersey, Pennsylvania, Massachusetts, Rhode Island, New Hampshire, Maine, and Maryland. CleanPro has, upon request, satisfied customers as far away as South Carolina unable to find qualified floor care and floor cleaning specialists. Call us today.
CleanPro provides customized floor care and floor cleaning services for residential and commercial customers. Since 1976, we have helped thousands of customers maintain their homes and businesses.
Realtors
CleanPro can improve the appearance of any listing and "a clean house sells faster and for a higher price."
Homeowners
CleanPro can steam clean your carpets, strip and refinish any type of flooring, and can pressure wash your home's exterior.
Commercial Customers
CleanPro offers you an honest, professional company, available for contract commercial floor cleaning on a preset schedule; daily, weekly, or on call. CleanPro can strip and refinish any type of flooring, and then maintain your floors with our ultra high speed buffing machines.
View our comprehensive list of Connecticut floor stripping & refinishing and contract floor maintenance services by clicking here.
Contact us with any questions or problems concerning your Connecticut floor cleaning, commercial and residential floor stripping, floor refinishing, and contract floor maintenance needs.